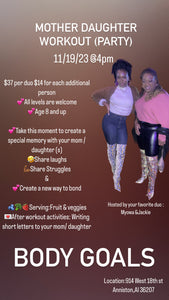 This  class is a full body class I will be able to offer different exercises for all ages and all mobility levels don't be shy just be sure to inform me of the age of each participant and the mobility level of each participant the date is 11 /19/23 at 4 PM the address is 914 W. 18th St., Anniston, AL it is $37 per duo and $14 per additional person add it to your group! 
After the work out, we will have refreshments, and I have a five minute writing prompt, where  we will write a letter to our mother, or a daughter! This letter will be personal, and will not be read aloud, unless you feel the urge to share it, but it would be given to the person it was written for as a keepsake!   
classes don't roll over or transfer to another class
No refunds.  
.